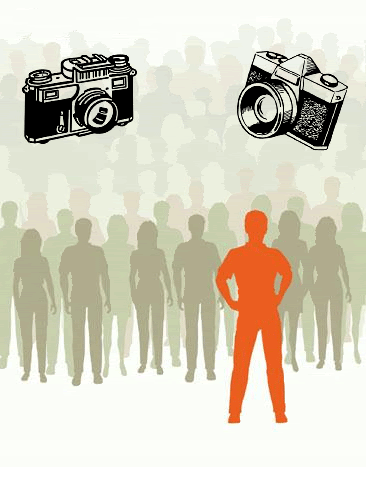 As you know, A Camera in the Crowd is a project we started to give you guys a taste of the music we like, and the two distinct styles of photography coming from Anne and I. A Camera in the Crowd is just a month old, but we've had this idea of music and different photographers sharing their work and clashing together in one place. Check Enteraction, if you wanna see where this whole project got its roots, actually you need to go back to "exposing distortion" which we created in 2004 but that doesn't exist anymore.

With A Camera in the Crowd, our goal's the same, get photographers to join and share their work not just with us, but to everyone else. We wanna see the world through your eyes, different styles of photography, from different locations. We thought about it long and hard, and we're only going to be accepting one photographer per state for people living in the United States. We have a couple of exceptions though, like California, Texas and New York, they have a couple of major cities, plus I live in California and Anne lives in Texas, so we need additional photographers from those states. People who don't live in the US are just as welcome to apply!

You may ask, what does a member of the Camera Crowd get to do?

Well once you get in, you'll be able to post once a week on the Camera Crowd photoblog. Anne and I will also choose photographers whose work will be featured on the "A Camera in the Crowd" blog.

Now, this is where we get technical, so before you ask any frickin questions, make sure you read this over and over again.

Requirments:

YOU NEED A FLICKR PAGE.

No questions asked, if you don't have your photos on flickr then were not letting you in. www.flickr.com to sign up if you don't have one.


You also need to answer the

Q&A

that's available below for download as a word document. Fill that up and email it with the subject line " Camera Crowd application" to

cameracrowd@gmail.com.



We might get a lot of submissions, we might not, nonetheless, we will only accept the
top 3
submissions. We don't want to end up accepting everyone, thats asking for chaos.
We will be accepting submissions till the
6th of August.
We're going to see how this whole thing goes and if all goes well, then we'll be letting more people in later on this year.
So remember, you need a Flickr, fill up the q&a, then mail it to cameracrowd@gmail.com


If we missed anything and have questions, leave us a comment along with your name and myspace url. Or you could contact us @ cameracrowd@gmail.com
Download the Q&A : Q&A


-Charlie